Here we are, month six of social distancing and working from home, and the one thing that I know for sure is that I am SO sick of figuring out dinner every night. Like many, back in March I dove into the world of elaborate recipes – from sourdough to homemade pasta. I quickly lost the cooking bug and as my time at home progressed, figuring out dinner every night became an extra and never-ending stresser in my quarantine lifestyle. After working all day, I'm usually too tired to cook anything worthwhile, leading me to make pasta for the hundredth time, heat up a frozen meal, or spend extra money on takeout or delivery. Also, I live alone, so spending the time and energy to go grocery shopping, do all the prep work, cook dinner, and clean up the kitchen just doesn't feel worth it to me. Ah, the days of restaurants or someone cooking you a home cooked meal!
This frustration led me on a quest for alternative dinner options. My key criteria: easy, fresh & delicious, and affordable. I looked into meal kits, like Blue Apron or HelloFresh, but have tried them in the past and they weren't convenient enough for me. Sure the ingredients come pre-portioned, but there's still a lot of work you have to do cooking the meal and cleaning up after. I knew I needed a more comprehensive solution, so I turned to Tovala: a meal delivery service that gives you the ingredients you need, and pairs with a smart oven that does all the cooking for you. I've had Tovala for a few months now and absolutely LOVE it. Here's my honest review of Tovala, and why I think you should try it too!
Criteria #1: Easy
This is where Tovala is 10/10…it could not be easier! The first thing you do when getting started is order your Tovala Smart O
ven and decide on the details of your meal service. I picked 4 meals a week (you can choose from 3-16.) My smart oven and first meal order arrived about a week later, and I was so excited to get started!
Here's where the magic happens. Meals come with a card that outlines the ingredients, the prep required, and the cooking instructions. Each meal requires only 1 minute or less of prep work on your part (no more hours spent doing your weekly meal prep!) This prep usually entails opening the packaging and putting on an included sauce or spice. Next, you put your meals in the Tovala Smart Oven. From there, your meal card has a QR code on it. All you do is scan the QR code using the smart oven's scanner and – voilà! – the oven will cook your meal for you. It uses custom cycles of steaming, baking and broiling to cook to perfection, exactly as the Tovala chefs intended. The best part, all Tovala meals cook in 20 minutes or less! I like to finish up my work at this time, or maybe get a quick workout in. When the Tovala Smart Oven is done cooking, you get a notification on your phone so then all you have to do is take your meal out of the oven, bring it to the table, and enjoy! It really can't get easier than that. And last but not least…no cleanup!
Criteria #2: Fresh & Delicious
I'm a big foodie, so this is an important one for me. So far, every Tovala meal I've tried has been very delicious and I can tell they were crafted and designed by professional chefs. Every week, I pick meals from a rotating menu of both meat-centric and vegetarian entrees. To name a few, popular selections include BBQ chicken with mac & cheese, miso glazed salmon with lime ginger roasted broccoli, and a vegetable grain bowl. Picking my meals has become a new favorite quarantine activity! Recipes are all created by Tovala's professional chefs and made with fresh, raw and real ingredients. The meals display the nutritional facts right on the package, so you know exactly what you are getting. One sample week of menu meals were all between 280-590 calories, full of protein and vegetables. Also, I really appreciate all the Carb Conscious, Calorie Smart, Vegetarian and Gluten Free meal options. I love Tovala's meal variety and that I can trust my meals to be fresh and delicious every time.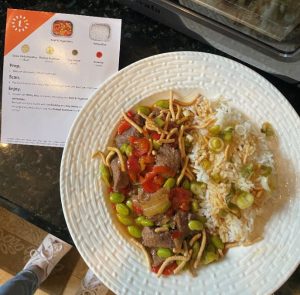 Criteria #3: Affordable
Tovala likely isn't the most affordable option out there, but for me it is definitely worth the price given how much easier it has made my life.  Each Tovala meal is $11.99, which I feel is a fair price given their near restaurant-quality, fresh and healthy ingredients, and how darn easy they are to make! The Tovala Smart Oven is $299, but right now Tovala is offering $100 off. Also, you can do so much more with the oven than just cook Tovala meals. In fact, I've barely used any other kitchen appliances since getting my smart oven. I use the Tovala Smart Oven and its steam, bake, broil, heat and re-heat functions to cook my own recipes or recipes from the Tovala app. Also, you can scan over 750+ grocery store brand favorites, like Annie's and Trader Joe's, and the Tovala Smart Oven knows how to cook them all perfectly! There's also an 100 day return policy, so no risk if Tovala turns out to not be right for you. All of these options made me more comfortable with the price of the Tovala Smart Oven, and I feel it's a worthwhile investment given all the delicious perks that come with it.
Conclusion 
All in all, I am so happy with my Tovala purchase and truly believe it has made my life way easier. I no longer stress out about what to do for dinner each night because I know I have delicious, chef-crafted meals just ready to be put in the Tovala Smart Oven. Also, I've saved so much time with Tovala with way less trips to the grocery store, no more Sunday meal prep, and no more making dinner on the weeknights. This time back has made me much happier because I get to spend my evenings unwinding and relaxing, something especially important to me while working from home. I hope this honest review of Tovala was helpful for you and I encourage you to try out Tovala too! Check out their website, at Tovala.com